SUSLA Student Wins $50,000 Scholarship Live on Ellen Show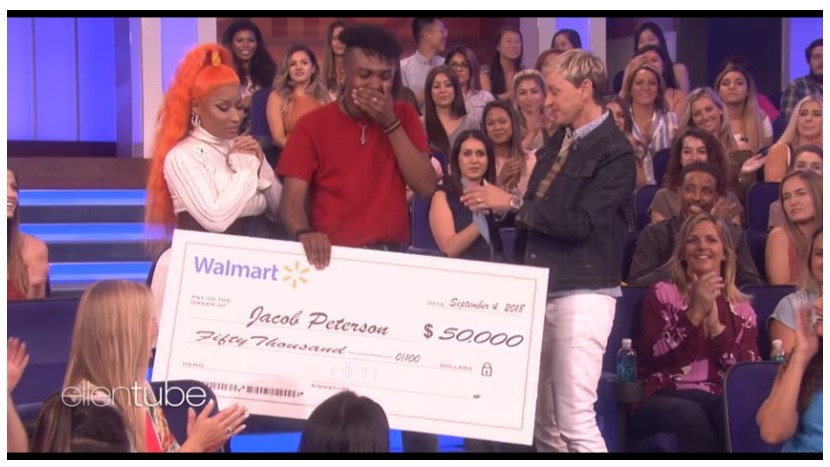 SUSLA Student Wins $50,000 Scholarship Live on Ellen Show
SUSLA student Jacob Peterson has big dreams and thanks to a $50,000 scholarship he is one step closer to making his dreams come true. Last year Nicki Minaj announced on the Ellen Show she was giving away scholarships to college students.
Jacob took a chance and wrote a letter to the Ellen Show that told the story of his life as a child and the challenges he has faced while trying to pursue a college education. He poured out his story on the page and just hoped for the best. He was shocked to get a call from the show several months later asking him to come out and be a VIP guest. What Jacob didn't know was that this VIP treatment was not the only big surprise headed his way.
The show flys Jacob out to California to join two other college student guests for a backstage VIP tour. Jacob recalls that when he was seated for the show to start he was, "just excited to be there." The show was almost over when Nicki Minaj and Ellen mentioned one of Jacob's social media accounts, joking that he had not responded to a message form Nicki.
While Jacob was frantically checking his phone, scrolling through his social media account, Nicki and Ellen made their way up to him in the audience to break the amazing news. "First I was shocked. I was completely shocked", said Jacob.
He was presented with a check for a $50,000 scholarship funded through Nicki Minaj and Walmart.
Jacob is majoring in music and wants to perform to sold-out arenas one day. His dream is to perform on multiple stages across the world. He plans to use the funds to help fuel that dream by continuing his education here at SUSLA and then going on to Southern in Baton Rouge.