SUSLA celebrates gradates with drive-thru diploma and virtual commencement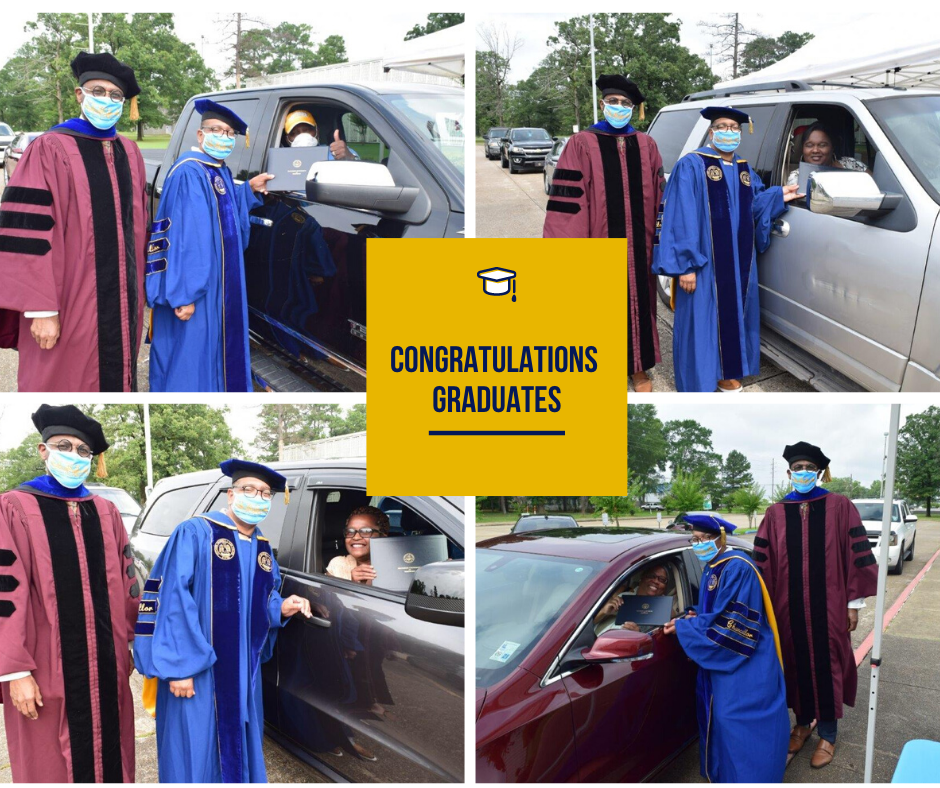 SUSLA CELEBRATES GRADUATES WITH DRIVE-THRU DIPLOMA DISTRIBUTION

AND

VIRTUAL

COMMENCEMENT
SUSLA celebrated its class of 2020 with a drive-thru diploma distribution on Thursday, June 25, 2020, and a virtual commencement ceremony on Saturday, June 27.
Graduates began lining up at 9 a.m. on Thursday to drive through campus to pick up their diplomas. SUSLA staff was on-site to provide direction and information. Graduates were directed to pick up their degrees from Chancellor, Rodney A. Ellis, along with Vice Chancellors Dr. Terry Kidd, and Dr. Melva Williams.
The college conferred degrees to graduates during the virtual ceremony hosted by Dan Jovic from KTAL News on Saturday. The commencement began with a prayer from Lonnie Hamilton, Behavioral Science Department Chair at SUSLA, and the welcome from Chancellor, Ellis. Graduation speakers such as Governor John Bel Edwards, Mayor Adrian Perkins, Activist and Entrepreneur Thomas Joyner, Jr., pre-recorded video messages, which were compiled, and linked with music and streamed on SUSLA's Facebook and YouTube pages beginning at 2 p.m.
"There is a pandemic going on, and this is nobody's fault that we couldn't celebrate how we normally would have. Both events were an excellent idea! The drive-thru diploma distribution was great! It was safe; everyone stayed in their cars, and staff wore their mask as they passed out diplomas. The virtual graduation had speakers, and I wasn't expecting any of that! My family and I enjoyed watching", stated graduate Erica Bryant Delaney.
The virtual graduation also included alumni, along with local celebrities, Tina B, and evening anchor at Fox 33 News and History Program Coordinator at SUSLA, Marquel Sennet. The virtual commencement currently has over 4,000 views on Facebook.