Our Campuses
Main Campus
SUSLA's Martin Luther King (MLK) Jr. Drive location was opened for instruction on September 19, 1967. The Institution currently occupies eleven (11) buildings on 103 acres of land located at 3050 Martin Luther King, Jr. Drive in Northwest Shreveport. In 2005, renovation was completed on the lobby of the Leonard C. Barnes Administration Building. The new lobby area houses a student lounge area, a faculty lounge, and office space. A centrally-located elevator provides access to classrooms and offices on the second floor of the building. On March 18, 2005 a ceremony was held formally naming the building in honors of Dr. Leonard C. Barnes, Chancellor Emeritus of SUSLA.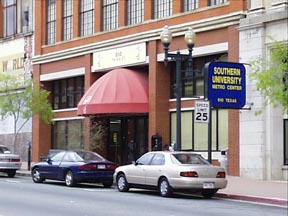 Metro Center
SUSLA Metro Center
610 Texas Street
Shreveport, LA 71101
318.670.6000
Located at 610 Texas Avenue, the SUSLA Metro Center occupies nearly 50% of the office building, housing computer labs, allied health labs, classrooms, academic and administrative offices, a media production studio, the Southern University Museum of Art at Shreveport, and a compressed video distance-learning classroom.
The building is an example of turn-of-the-century urban commercial architecture and consists of two structures. The six-story red brick building was built in 1919 by the Jacobs family as office space. The adjoining four-story building, known as the Barrett Building, was constructed in 1929 by a Little Rock, Arkansas department store for use as a ladies' specialty fashion store. In 1982 the two buildings were combined and renovated to create the existing structure which now contains approximately 70,000 square feet. In 1992, the building was given the DSU Award for Preservation of Historic Architectural Buildings in Downtown Shreveport, Louisiana.
Aerospace Technology
SUSLA Aerospace Technology Center
1560 Airport Drive
Shreveport, LA 71107
318.676.5590
The Aerospace Technology Center, located at the Shreveport Downtown Airport, occupies two aircraft hangars with classroom space in the main terminal building. The center houses the offices and training areas for the Aerospace Technology program.
The Downtown Airport was Shreveport's first commercial airport. Delta Airlines flew its initial routes from Dallas, Texas to the airport in 1929. The airport was officially inaugurated on July 14, 1931. After Shreveport Regional Airport opened in the early 1950s, the Downtown Airport became a general aviation airport serving private pilots, companies and schools based at the airport. The Aerospace Technology Center is housed in the first hangar built at the airport.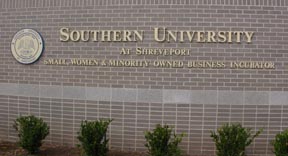 Business Incubator
Small, Women and Minority-Owned Business Incubator
4000 Viking Drive
Bossier City, LA 71111
318.741.2761
The SUSLA Small, Women & Minority-Owned (SWMO) Business Incubator can assist you:
Assistance in obtaining funding
Networking with other entrepreneurs
Flexible Space and Leases
No Utility Cost
Security Alarm System
Furnished Office Space
Janitorial Service
Business Support Services

Secretarial, fax and copy machine access
Telephone answering service
Classroom space and/or a conference room

Business and Technical assistance

Onsite assistance
Community referral system