SUSLA Foundation Holds 14th Annual Port City Golf Tournament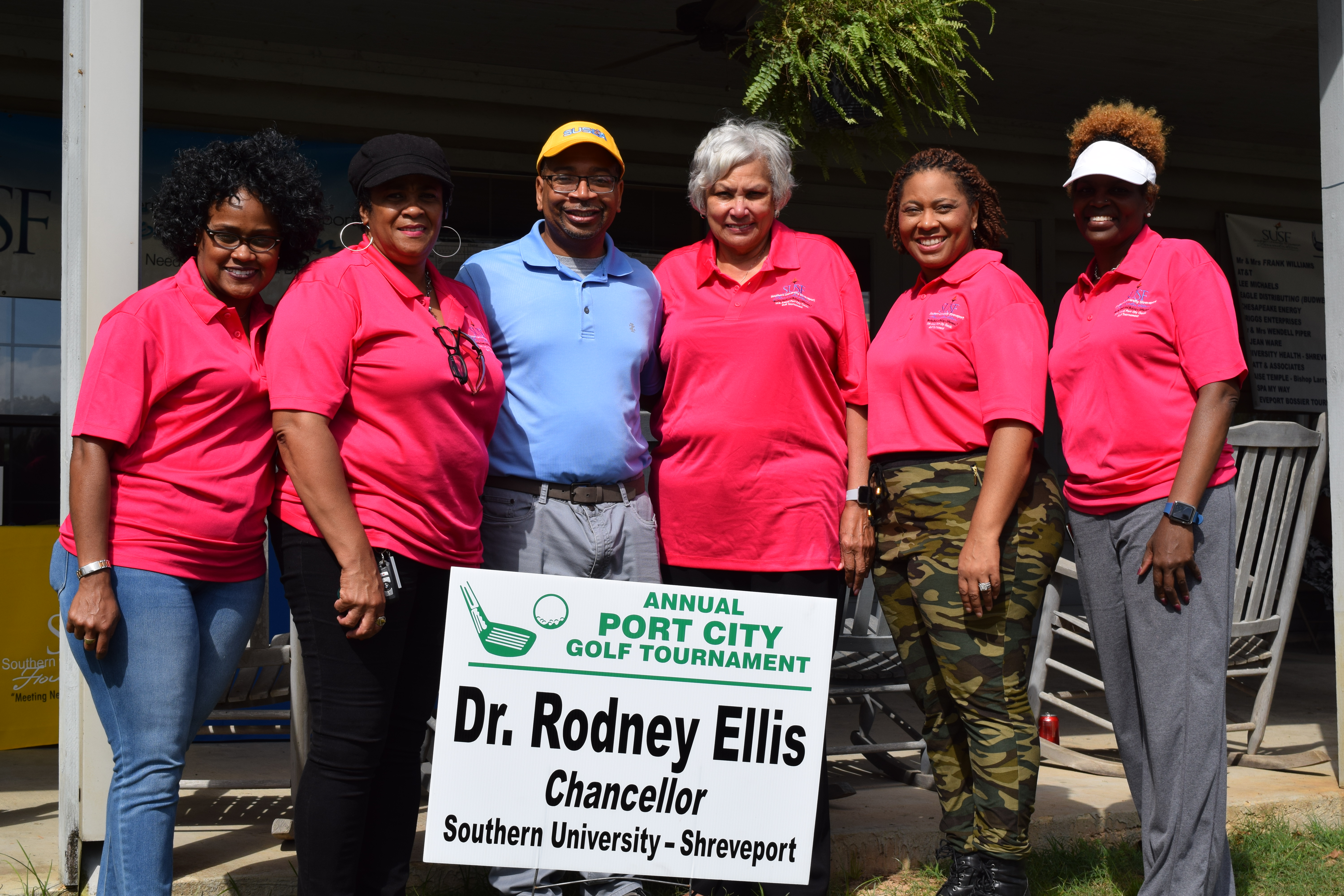 The Southern University at Shreveport Foundation (SUSF) Holds 14th Annual Port City Golf Tournament

The Southern University Shreveport Foundation (SUSF) is hard at work raising funds to help future students realize the dream of a college education. Supporters, family, and friends of the foundation came out on Monday, October 8th to enjoy the 14th Annual Port City Golf Tournament at Crooked Hollow Golf Club in Greenwood.
Each year, the event leverages the monies raised from the golf tournament to help fund scholarships for Southern University at Shreveport (SUSLA) students who would otherwise find a college education beyond their financial reach.
The tournament began bright and early with a shotgun start at 8:30 a.m. Prizes were awarded for the longest drive and closest to the hole. Door prizes and a one million dollar shoot-out were also awarded by drawing.
The event would not be possible without the generous support of our tournament sponsors:
Dr. Rodney Ellis, Worlita Jackson-Williams, Makiva N. Johnson, Mr. & Mrs. Frank Williams, Jr. (In Memory of Josephine Miles ), Lee Michaels Fine Jewelry & Gifts, Chesapeake Energy, The Par 3 Golf Association, Dutch Wells (ORR Nissan), KTAL Channel 6 NBC, Shreveport Bossier Bingo Supply, AT&T, Josephine Miles, Griggs Enterprises, E. Jean Ware, Wilmore Snacks, My Spa My Way, Mr. Reece Middleton, Eagle Distributing (Budweiser), Libbey Glass, Mr. & Mrs. Wendell Piper, Pratt & Associates, Brenda Ford, AEP SWEPCO, Washington & Wells, North Shreveport Business Association, University Health-Shreveport, Caldwell Dunn (State Farm Insurance), Praise Temple (Bishop Larry Brandon), and Shreveport-Bossier Convention and Tourist Bureau.
The Southern University Shreveport Foundation (SUSF) invites all golfers to participate in this fun-filled event next year and make a difference in the lives of young people in our community.
For more information on how you can support future students, contact Emily Owens at eowens@susla.edu.
About the Southern University Shreveport Foundation (SUSF)
The Southern University at Shreveport Foundation (SUSF) is organized exclusively to promote the educational and cultural welfare of Southern University at Shreveport (SUSLA). We assist SUSLA in achieving its mission by providing scholarships and other assistance to aid students with the continuance of their education.