SUSLA Hosts Breast Cancer Awareness Event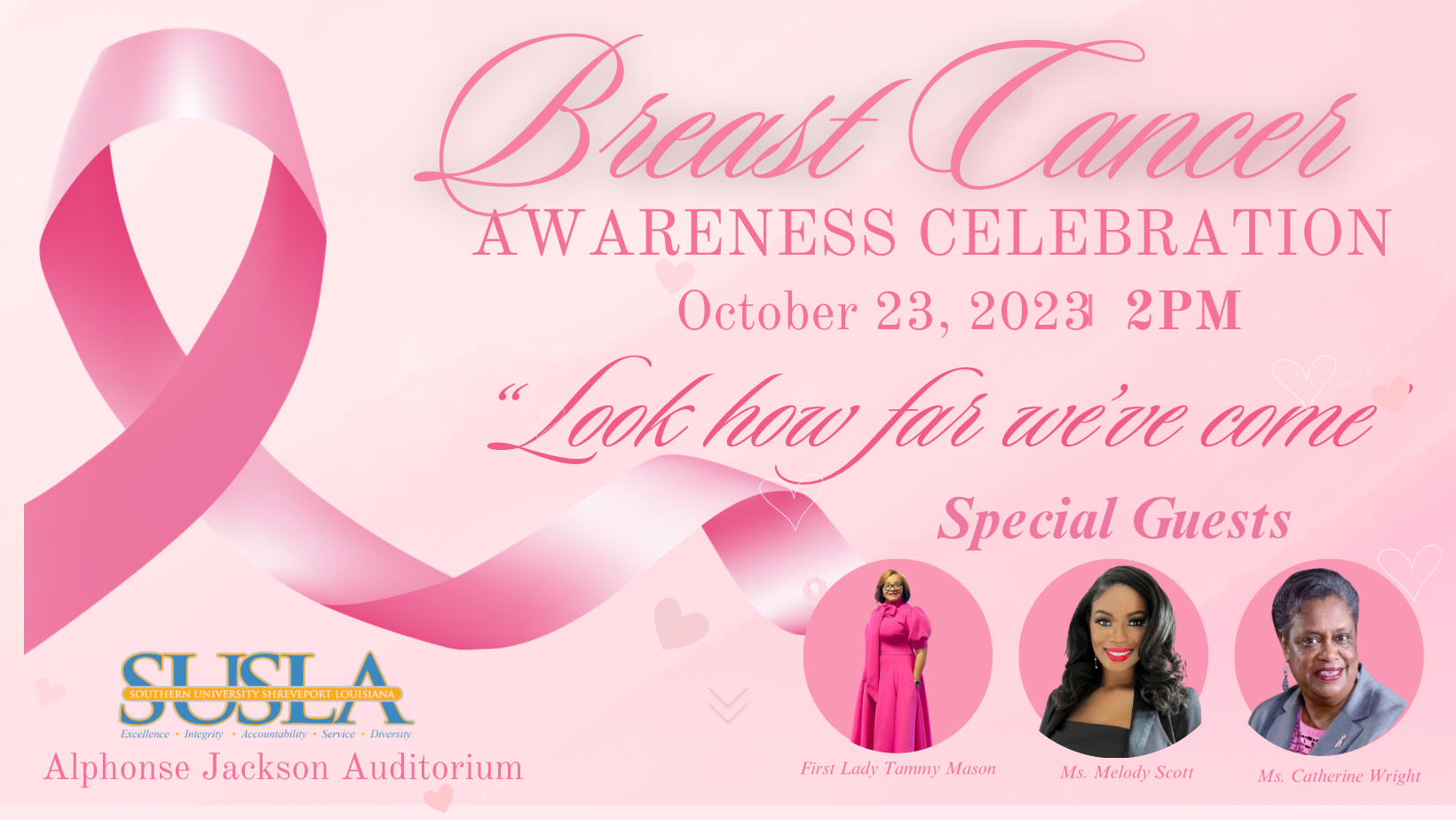 On Monday, October 23, 2023, Southern University at Shreveport will host its Annual Breast Cancer Awareness Event in the Alphonse Jackson Building Auditorium. The event, titled "Look How Far We've Come: Celebrating Our Survivors, Standing With Our Warriors, Honoring our Angels," begins at 2:00 p.m. University administrators, faculty, staff, and student attendees will have the opportunity to listen to inspiring survivor stories from Mrs. Tammy Mason and Ms. Melody Scott, the 40th Miss Southern University at Shreveport. The 56th Miss Southern University at Shreveport, Zu'Dai Anderson, will offer greetings, and she and members of her court will be in attendance, providing campus-centered support to all event participants.
Among the special guests, Ms. Catherine Wright, the CEO of the C. Wright Pink Ribbon Project, an organization providing financial support to those impacted by breast cancer, will be present. Additionally, the event will celebrate and honor breast cancer survivors who are employed by the university. Notably, the Southern University at Shreveport Foundation and the Division of Allied Health and Nursing will make a charitable check presentation to The C. Wright Pink Ribbon Project, furthering the cause of supporting individuals affected by breast cancer.
In addition to the insightful presentations and acknowledgments, Breast Cancer Awareness education and local vendors will be available onsite to provide valuable community-based resources and information. Attendees are encouraged to wear "Throwback" Breast Cancer T-shirts or shades of pink, symbolizing their support and solidarity in the fight against breast cancer. This event promises to be a meaningful gathering, raising awareness, celebrating survivors, and offering support to warriors in the ongoing battle against breast cancer.