Veterans Day Resource Fair and Breakfast at Southern University at Shreveport
Honoring and Supporting our Veterans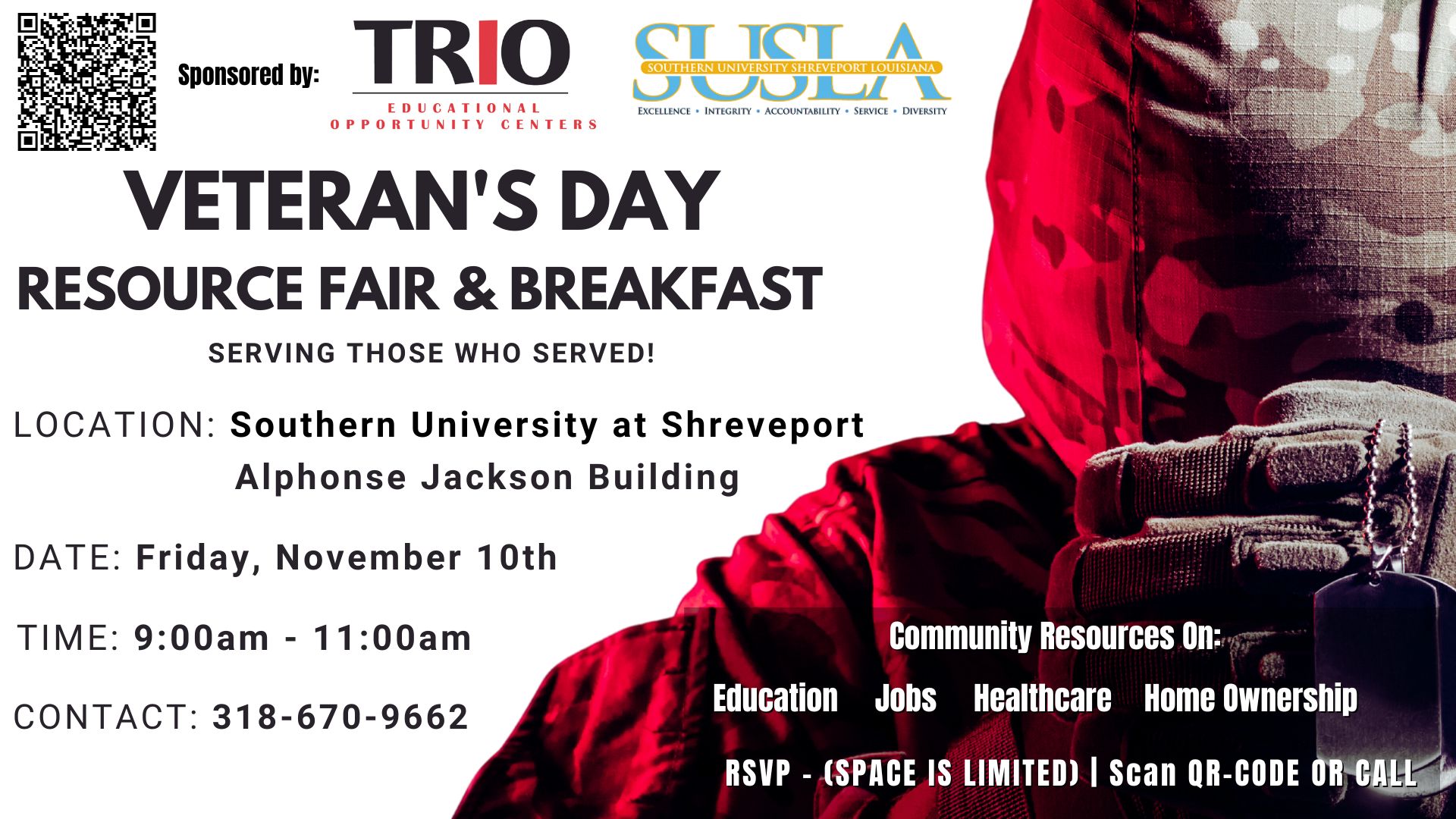 (Shreveport, LA) --- In observance of Veterans Day, Southern University at Shreveport (SUSLA) is hosting a Veterans Day Resource Fair and Breakfast to honor and support those who have made the ultimate sacrifice in service to our country. The event is scheduled for Friday, November 10th, from 9:00 AM to 11:00 AM CT, at the Alphonse Jackson Building - Southern University at Shreveport.
The event is being held to provide valuable resources and services to veterans to help them overcome the challenges they face when they transition back to civilian life. It will feature various organizations and agencies that offer veterans assistance in various aspects of life, including healthcare, employment, housing, and education. Experts will be available to answer questions and offer guidance on benefits, services, and support available for veterans.
In addition, the Veterans Day Resource Fair and Breakfast will provide opportunities for veterans to connect with one another, share their stories, build friendships, and camaraderie. Veterans can use this opportunity to network, relax, and have fun in an informal and friendly atmosphere. SUSLA believes that the event will help veterans to understand and appreciate the importance of the community of veterans and how they can find support from each other.
The Veterans Day Resource Fair and Breakfast is open to all veterans, and their friends and family members who attend with them. SUSLA is requesting that interested participants RSVP as space is limited. Guests can RSVP by visiting https://www.eventbrite.com/e/veterans-day-resource-fair-breakfast-serving-those-who-served-tickets-741655570777?aff=oddtdtcreator.