MSKICK GRAB & GO PROJECT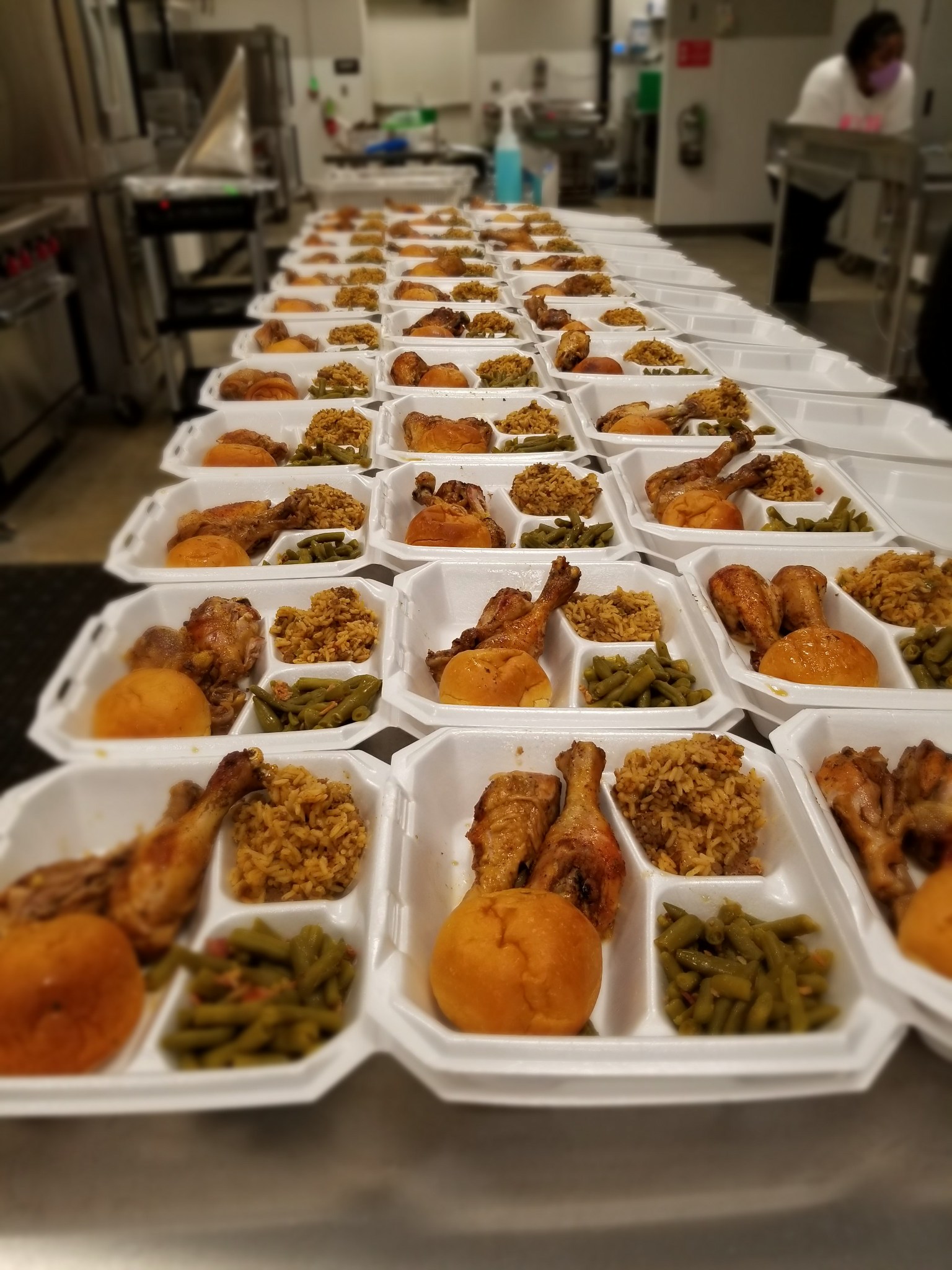 MSKICK GRAB & GO PROJECT:
FEEDING CITIZENS CURBSIDE HOT AND HEALTHY MEALS DURING COVID-19 PANDEMIC
Southern University at Shreveport (SUSLA) Milam Street Kitchen Incubator & Community Kitchen (MSKICK) launched on Monday, April 27, 2020 its Grab & Go Feeding Program. Residents of the Allendale, Ledbetter Heights, and West Edge communities can receive a hot, healthy meal for free. The purpose of the program during this coronavirus pandemic is to: (1) provide well balanced nutritious meals to those in need (2) provide employment to caterers; (3) provide culinary arts training preparing potential chefs for the workforce. Residents were able to drive or walk up and receive a meal prepared fresh daily in packaged "to go" containers
Information about the feeding went to multiple caters in the Shreveport-Bossier City area in hopes of their participation. Keidra Brown of Keidra's Kitchen, LLC, was one of the caters to respond to the call. "MSKICK reached out and asked if I wanted to team up with them to feed the elderly and people in the Allendale area. I decided to do it because I wanted to give back. MSKICK is not only a blessing to small businesses; it is a blessing to the entire city of Shreveport. I'm just happy to help," stated Keidra. Valentina Miller, a volunteer from the Providence House indicates, "When I received the call about the job, I thought it was a good idea. I was happy to participate and serve those who do not know where their next meal will come from. It feels good to give back".
According to Janice Sneed, Associate Vice Chancellor of Academic Affairs and Workforce Development, "The one of the roles of a community college is to meet the help meet the needs of the community. There is no greater need at this time than health and safety, along with stabilizing our economy. We realized MSKICK was uniquely prepared to address food insecurities in a safe environment while putting citizens back to work".
In late May, MSKICK Grab & Go Project will implement a culinary entrepreneurship program for the tenants of the facility. More information will be announced soon.
Community partners for the Grab & Go Project are: City of Shreveport Office of Community Development, Housing Authority of the City of Shreveport, Housing and Urban Development (HUD), Blue Cross & Blue Shield of Louisiana, Capital One Bank, Southern University at Shreveport Foundation, Healthy Blue, Providence House, Food Bank of Northwest Louisiana, Goodwill Industries of North Louisiana and Hope Connection.