Mayor Perkins celebrates with SUSLA's during our Spring Commencement.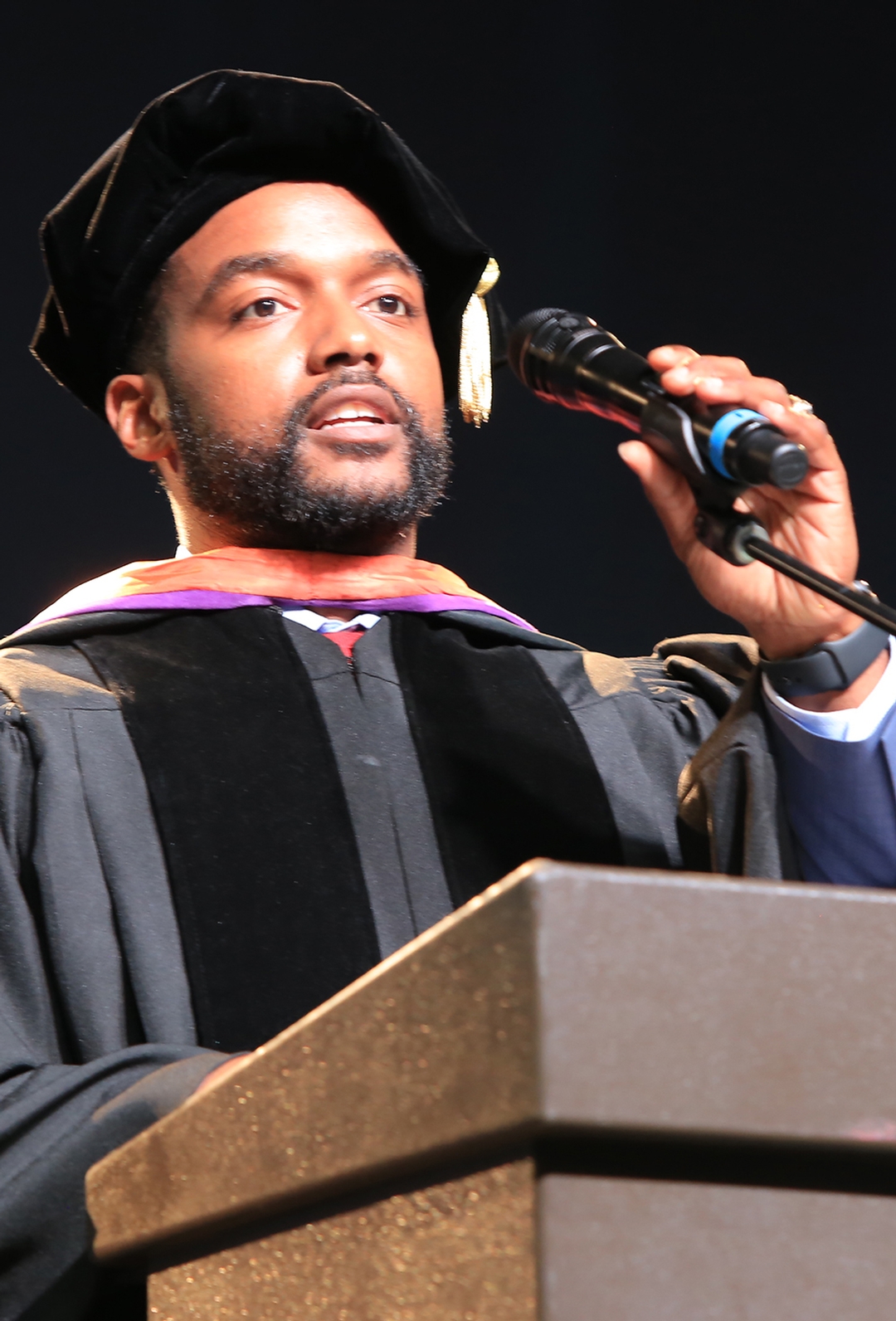 On May 20, 2019 SUSLA's Spring Commencement was celebrated at the Shreveport Convention Center. Nearly 300 graduates made their way across the stage to accept degrees and certificates in various disciplines representing the manifestation of their accomplishments.
Over 5,000 family members and well-wishers filled the Convention Center to help celebrate the graduates' achievements. During the ceremony, Dr. Rodney Ellis, along with Caddo Schools Superintendent Dr. Lamar Goree and newly appointed Booker T. Washington High School Pincipal Crystal Barnes recognized five students from BTW for completing a pilot dual enrollment program at SUSLA with industry certifications. Students Makayla C. Davis, Ayjah J. Jones, Makayla D. Lampkin, Rory A. Tyler, and Domo'Nesha L. Washington graduated with a Certificate of Technical Studies in Child Development. The program is a first in SUSLA history.
Other special moments were captured when Dr. Ellis and System President, Dr. Ray L. Belton recognized former SU System Board Member Rev., Dr. Joe R. Gant, Jr. for his legacy of nearly four decades of service to SUSLA students, employees, and citizens of NW Louisiana through his work on the Board.
Program participants included: SUSLA Chancellor Dr. Rodney A. Ellis; SU System President Dr. Ray L. Belton; SU System Board of Supervisors S. Albert Gilliam and Rev., Dr. Sam C. Tolbert, Jr.; Shreveport Mayor Adrian Perkins; Voices of Unity Choral Dir. Jerry L. Maiden Jr.; VC of Community and Workforce Development Janice Sneed; VC for Academic Affairs Dr. Sharron Herron-Williams; VC for Student Affairs & Enrollment Dr. Melva Williams; CELT Director Rhonda Young and SUSLA Alumni Assoc. VP Charles Johnson. Additional guests joining Dr. Ellis on the podium were Caddo Parish Schools Superintendent Dr. Lamar Goree; CPSB Board Member Dottie Bell; Booker T. Washington High School Principal and members of SUSLA Administration.
Stephanie Rogers, Chief Advancement Officer
Office of Marketing and University Relations