Robeneyce Green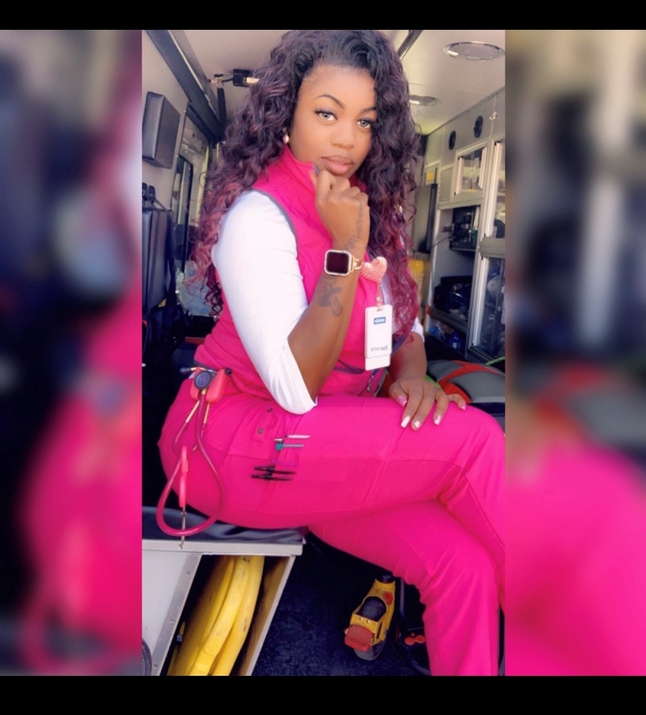 S

TUDENT SUCCESS STORY
SUSLA

GRADUATE

RETURNS HOME AFTER FIGHTIN

G

COVID-19

IN NYC
Instead of watching life unfold day by day, Robeneyce Green decided to have a life plan after graduating from high school in 2008. She joined the United States Army, then graduated from college in 2012 with a BA in Criminal Justice. Everything was going in the right direction until she was unable to find employment in her career field. It was time to re-write the plan and consider a profession that allowed her to give back and show selfless service.
Robeneyce eventually decided to pursue a career in nursing. After completing an LPN program in 2015, she decided to apply for nursing school at Southern University at Shreveport (SUSLA). "I decided to attend SUSLA because I heard that Southern had instructors challenging their students to learn how to nurse and think critically. Since I liked challenges, I had to attend," said Robenyce.
In December 2017, Robeneyce graduated from SUSLA, and she received her nursing license the following month. She went on to work at Louisiana State University Medical Center (LSU) in the emergency department, and complete three travel nursing assignments in California, and one in New York during a nationwide pandemic. Ms. Green worked at Mount Sinai in Brooklyn, New York, during the COVID-19 global outbreak for five weeks. It was at this time that she realized she was in the right profession.
Patients were incredibly sick, everyone was on ventilators, and the nurses were overworked. Robeneyce stated, "To look on Facebook and see nurses crying, saying they need help, and that the nurse-patient ratio was out of hand, I felt like I needed to be there. I joined the nursing field to help out across the nation". Robeneyce recalls a situation where a 79-year-old lady was dying. The visitation policy was rigorous; no family could come into the hospital due to the increase in COVID-19 patients. "I remember being in the ER, and the lady knew she was about to die. She held my hand and said, "I thank you for everything that you're doing. I know I'm about to die. I've lived a good life, and it's ok. I want you to hold my hand because you will be an extension of my family. I know they cannot be here".
Thousands of healthcare workers from across the country risked their lives to travel to hard-hit New York City, where many have died from coronavirus. Even though the daily death toll has fallen in recent weeks, COVID-19 is still spreading.
Robeneyce Green has made it home safely and completed a 14-day quarantine. "The experience hasn't changed me; it just confirmed that I'm in the profession that I need to be in. I'm in a job where my hands can heal another; if not heal another, they can give a person empathy or a little sense of hope".