IT Email Services
Accessing the SUSLA E-mail System
ATTENTION: Effective immediately ALL Students registered for classes, will receive access to Moodle, Skymail, Campus Login and Wi-fi. You will be using the same credentials (passwords) to log in to each.
**SkyMail Live ID:**
SkyMail + user ID which includes the last four digits of your banner ID (in this format username####@susla.edu) for example if your SUSLA username is JDoejohndo1234, the SkyMail login will be
JDoejohndo1234@susla.edu
For STUDENTS, the initial password is date of birth in the format of month, day, year (mmddyy); for example if your date of birth is April 29, 1990 your initial password will be 042990.
Your username will only contain the first letter of your first name and the first nine (9) letters of your last name followed by the last four (4) digits of your student ID. If your last name contains more than nine (9) letters you will stop at the ninth letter not including any dashes or hyphens. Example: Your Name Is: John Doe-johndoe and Your Banner ID is:987651234; Your Username will be as follows: jdoejohndo1234
NOTE: The system will prompt you to change the password on the first login attempt. ALSO, when prompted, PLEASE be sure to provide your cell number, an alternate email address and choose a security question in the event you need to reset a forgotten password. The reset information will be texted to your cell phone, alternate email and the security questions will provide verification during the rest process.

Username: jdoejohndo1234@susla.edu
Password: 042990
**Accounts for new students are created upon completion of the payment process at the beginning of each semester.
Important Information for Office365 Login
Office365
NEW
OLD
Login
jdoejohndo1234@susla.edu
jdoejohndo1234@skymail.susla.edu
Password
Your Campus Password
SkyMail Password
Email Address
jdoejohndo1234@skymail.susla.edu
jdoejohndo1234@skymail.susla.edu
Click Here to Access the Student Skymail Email Account
Faculty/Staff E-Mail System
UserNames are your first initial and your last name.
For example: If your firstname is Jane and your last name is Smith. Your user ID will be jsmith.
Your initial password is your First Initial of your First Name and the First Initial of your last name backwards. Example: if your First Name is Jane and your Last Name is Smith, then your password will be SJ.
You can also enter domain name SUSLA followed by backslash and your user name(i.e. SUSLA\username).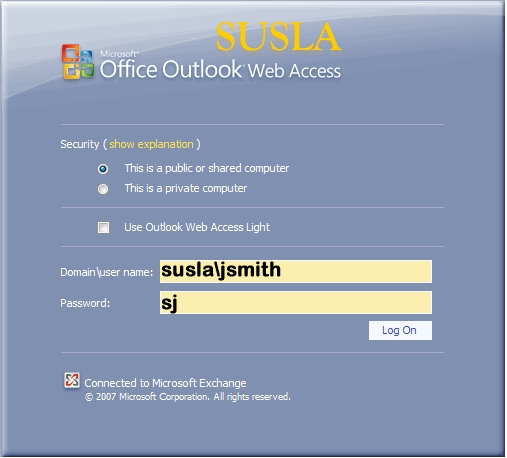 The basic client provides fewer features than the premium client but offers faster performance. Use the basic client if you're on a slow connection.