Lincoln Preparatory School Graduates Earn Associate Degrees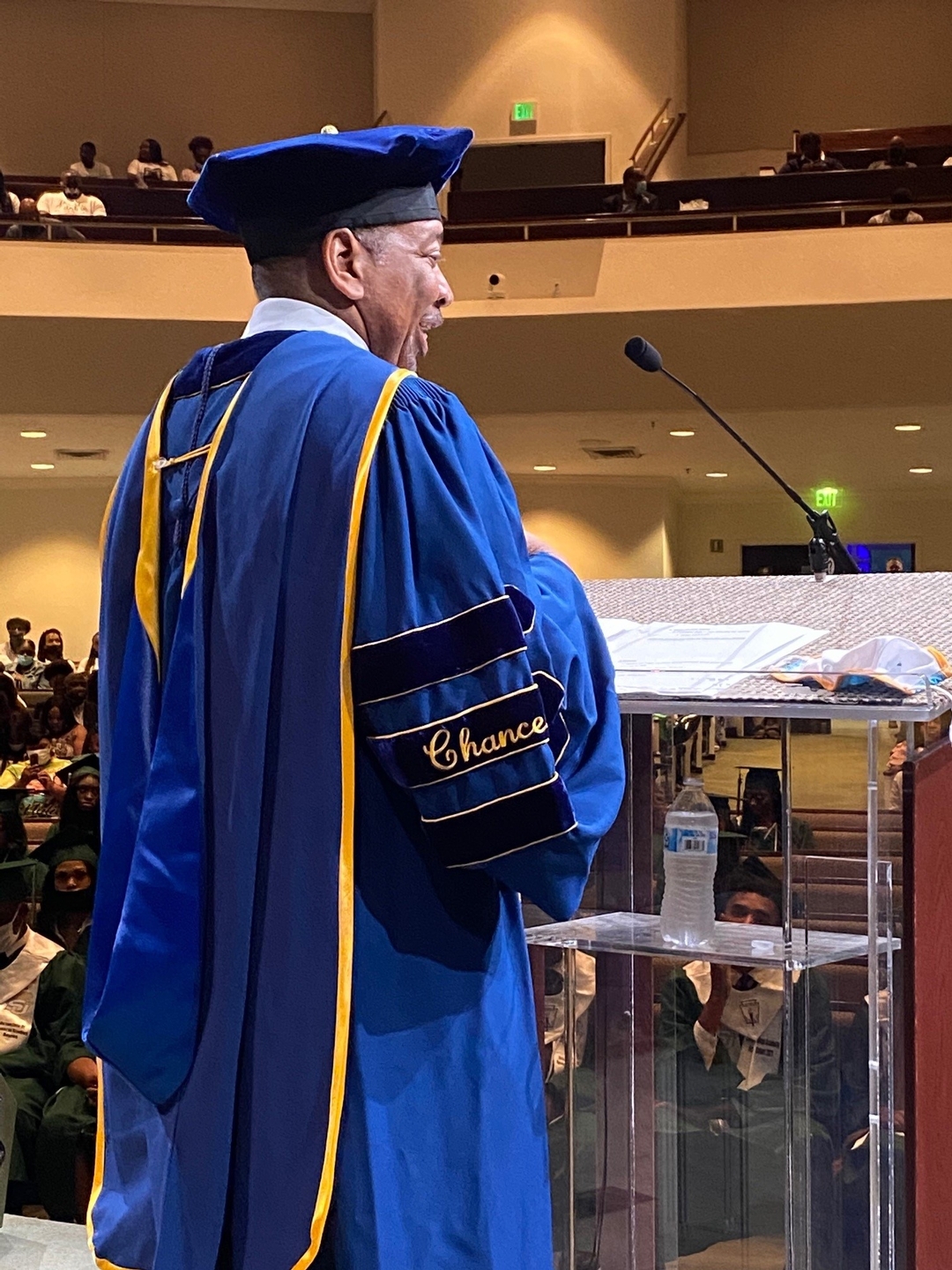 FOR IMMEDIATE RELEASE Contact: Gordan Ford, Executive Director
318-242-8788
LINCOLN PREPARATORY SCHOOL GRADUATES EARN ASSOCIATE DEGREES
Nine LPS high school graduates will receive Associate in General Studies Degree from Southern University at Shreveport during their high school graduation.
GRAMBLING, LA – On Monday, May 17th, when Lincoln Preparatory School seniors marched across the stage to receive their high school diplomas, nine of them returned to the stage a few minutes later to receive the Associate of General Studies Degree from Southern University at Shreveport (SUSLA). These students were part of the Lincoln Preparatory School Early College Academy. The Lincoln Prep ECA was created in the Fall of 2019 by a memorandum signed by Lincoln Prep Executive Director, Gordan Ford and SUSLA Chancellor, Dr. Rodney Ellis. The MOU, signed October 28, 2019 formalized a relationship between the two schools, providing additional dual enrollment opportunities for LPS students and paving the way for this unique associate degree pathway.
"Southern University at Shreveport is excited to partner with Lincoln Prep for their Early College Academy." Said SUSLA Chancellor Ellis. "We value the leadership and vision of Mr. Ford and are proud of the work that his faculty have done to ensure that these high school students completed the program timely. SUSLA looks forward to a continued partnership and hopes to have even more students from Lincoln Prep participate in the future." Dr. Ellis served as the commencement speaker and also presented the associate degrees to the graduates. Lincoln Prep ECA graduates are also eligible to participate in SUSLA's commencement exercises on May 22nd at Independence Stadium in Shreveport. The Lincoln Prep commencement exercises will be held Monday, May 17, 2021 at Temple Baptist Church in Ruston. The program will begin at 6:00 p.m. Due to COVID-19 restrictions, all persons attending the graduation must have a ticket. Members of the press can contact the school to obtain tickets.
"Lincoln Prep is all about providing opportunities for our students," Ford says, "In 2019, Lincoln Prep had a higher percentage of our graduates earning post-secondary credentials and a higher percentage of graduates enrolling in college than any school district in our region, despite having lower average ACT scores than most of those districts." According to Louisiana School Finder, 79% of Lincoln Prep seniors (91% of economically disadvantaged students) completed college-level coursework or attained proficiency with an industry-valued skill set recognized by the Workforce Investment Council (WIC) and 73% of Lincoln Prep seniors (66% of economically disadvantaged students) enrolled in college by the 1st fall semester after graduating from high school. Lincoln Prep's 79% for credentials earned and 73% college enrollment rate compare favorably to state averages of 50% and 57% and Lincoln Parish School District averages of 57% and 67% respectively. Students of Color at Lincoln Prep were 44% more likely than their peers across the state and 53% more likely than peers in Lincoln parish to earn college or workforce credentials, as 85% of Lincoln Prep Students of Color earned credentials, compared to state and district average rates of 41% and 32%.
Lincoln Prep is currently still accepting applications for the 2021-22 school year. To apply for enrollment, visit www.lincolnprep.school.