Get Ready for the Million Dollar March and SU Give Day!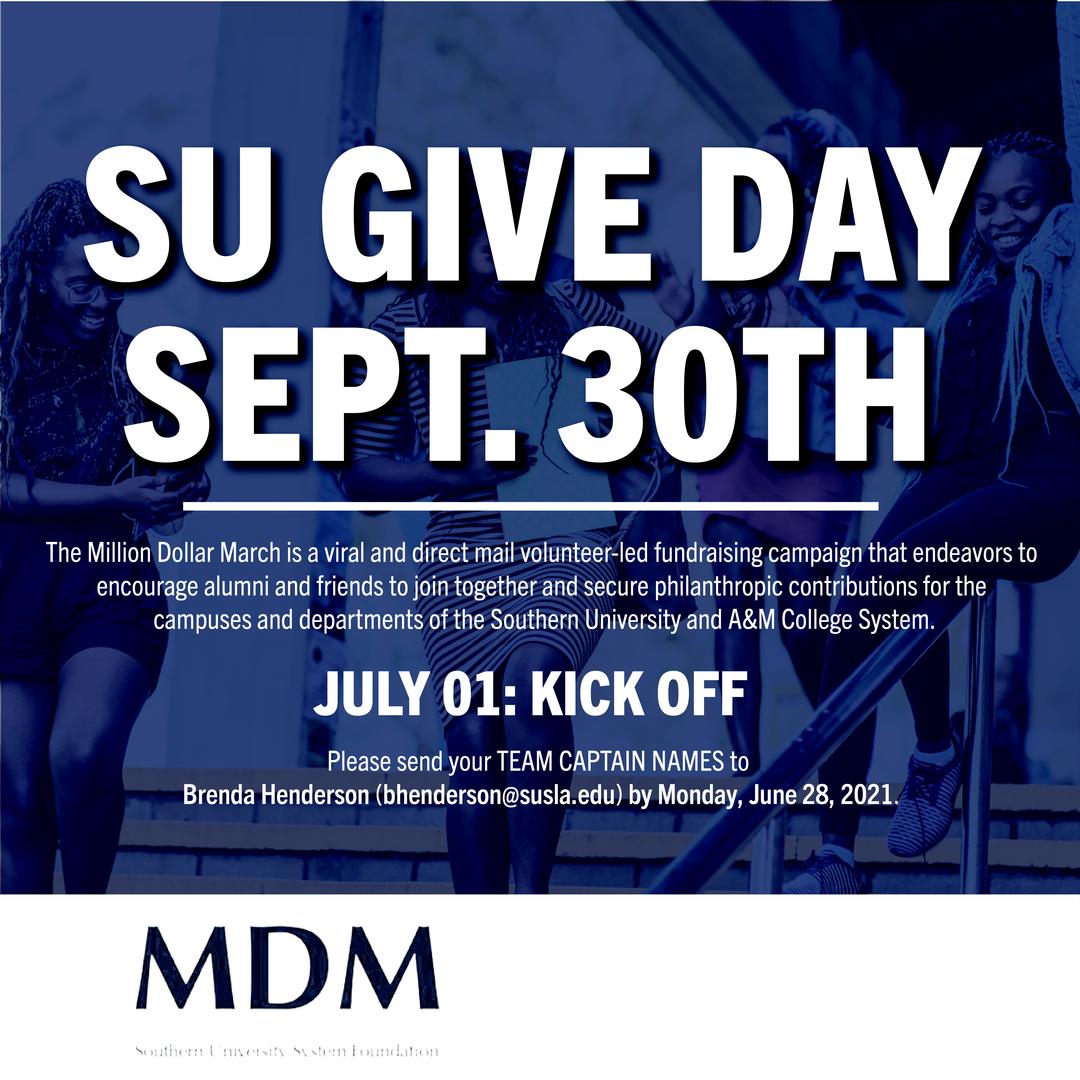 WHAT: Planning has begun for the return of SU System Foundation's Annual SU GIVE DAY
WHEN: KICK-OFF: July 1, 2021 SU GIVE DAY: September 30, 2021
WHY/PURPOSE: The Million Dollar March is a viral and direct mail volunteer-led fundraising campaign that endeavors to encourage alumni and friends to join together and secure philanthropic contributions for the campuses and departments of the Southern University and A&M College System.
BENEFITS FROM LAST YEAR'S PARTICIPATION:
SUSLA received the following Support from System Foundation
$10,000 for Center for Critical Studies in Race Relations (Eighteen Eighty Society)
Jack & Jill Foundation HBCU Scholarships awarded to eligible SUSLA Students (Spring 2021)
Scholarships made available to students from all programs (email distributed in Jan. 2021)
CALL TO ACTION WHO:
TWO Team Captains Needed to Represent EACH Academic, Workforce or SAEM Program.
Please send your Team Captains names to:
Brenda Henderson (bhenderson@susla.edu) by Tuesday, June 29, 2021.
DETAILS: Team Captains Training will take place on-line, initially. The on-line training is both brief and informative. The on-line training will be followed by a Zoom Info/Training Session on July 9, at 3pm.
LINE-UP OF FUN EVENTS WITH PRIZES: (Events have not been confirmed)
July
15 College of Ag & SULC
29 Class Challenges
August
12 SUNO & SUSLA
26 Band and Athletics
Sept
8 SU Greeks
22 Student Philanthropy Council