Southern University at Shreveport and Grand Canyon University To Implement A 100% Online RN-BSN Or RE-MSN Bridge Program
The program is scheduled to be launched Spring 2023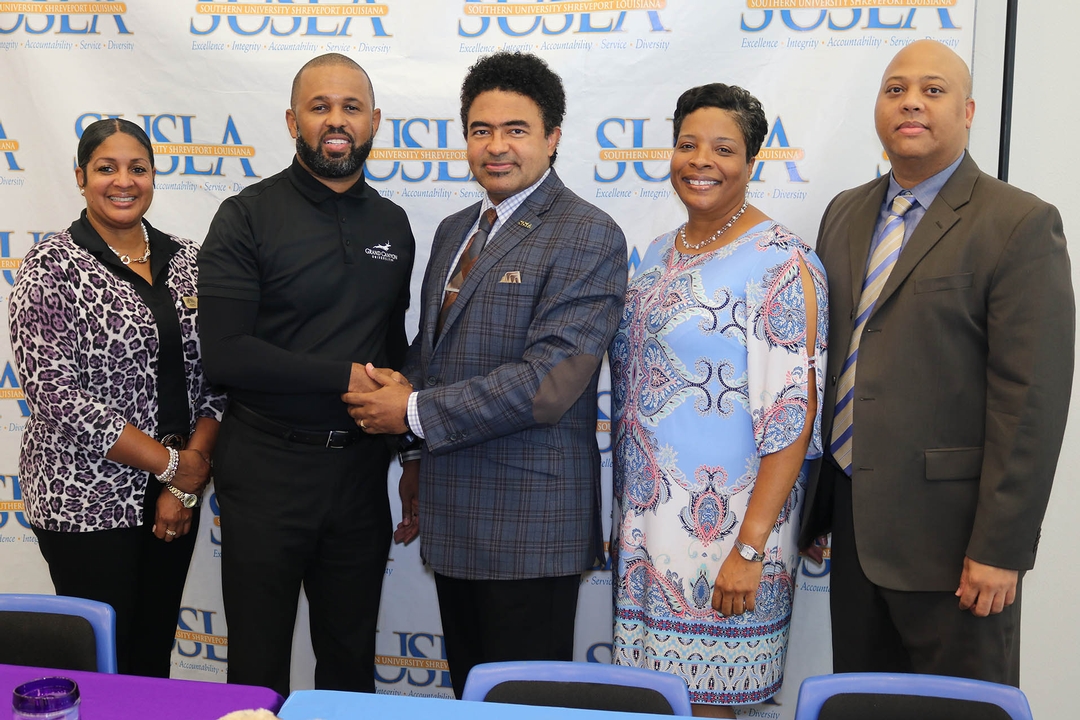 Pictured left to right - Monique Smith, GCU Development Counselor, Jason Anthony, GCU Senior Manager for Arkansas, Alabama, Louisiana and Mississippi, Dr. Vladimir A. Appeaning, SUSLA Interim Chancellor, Tiffany Varner SUSLA Director - School of Nursing, and Dr. Lonnie McCray, Interim Vice Chancellor of Academic Affairs and Workforce Development
---
On Tuesday, September 20, 2022, at 12:00 pm officials from Grand Canyon University (GCU) and Southern University at Shreveport (SUSLA) signed a concurrent enrollment pathway agreement between the respective nursing programs of both institutions. The agreement will allow students currently enrolled in SUSLA's Associate of Science in Nursing (ASN) program to begin taking core courses online towards the Bachelor of Science in Nursing (BSN) at GCU, and then towards the Master of Science in Nursing (MSN).
This RN to BSN and RN to MSN Bridge offers the option to seamlessly transfer credits from SUSLA to the program at GCU for the completion of the degree. The program is designed for current students to get a step ahead in their goal to further their nursing education.
"The new RN to BSN agreement will open the doors of opportunity for SUSLA's minority student population. Minority students account for 34% of individuals completing a BSN program, with only 11% of that total being African American. This program can and will help alleviate this achievement gap." …said Dr. Lonnie McCray, Interim Vice-Chancellor for Academic Affairs and Workforce Development.
SUSLA Interim Chancellor, Dr. Vladimir A. Appeaning had this insight…" The signing of this innovative Concurrent Enrollment Pathway between Southern University at Shreveport and Grand Canyon University will provide a pathway for our nursing students to begin working on an advanced degree while earning their initial nursing degree. Everything can be completed online in approximately one year after graduation from SUSLA, and without having to leave their homes and jobs right here in Shreveport. He continued…" This program will help to alleviate the current shortage of registered nurses in the workforce and eventually educators in the nursing education field."
The program is scheduled to be launched Spring 2023.