Surgical Technology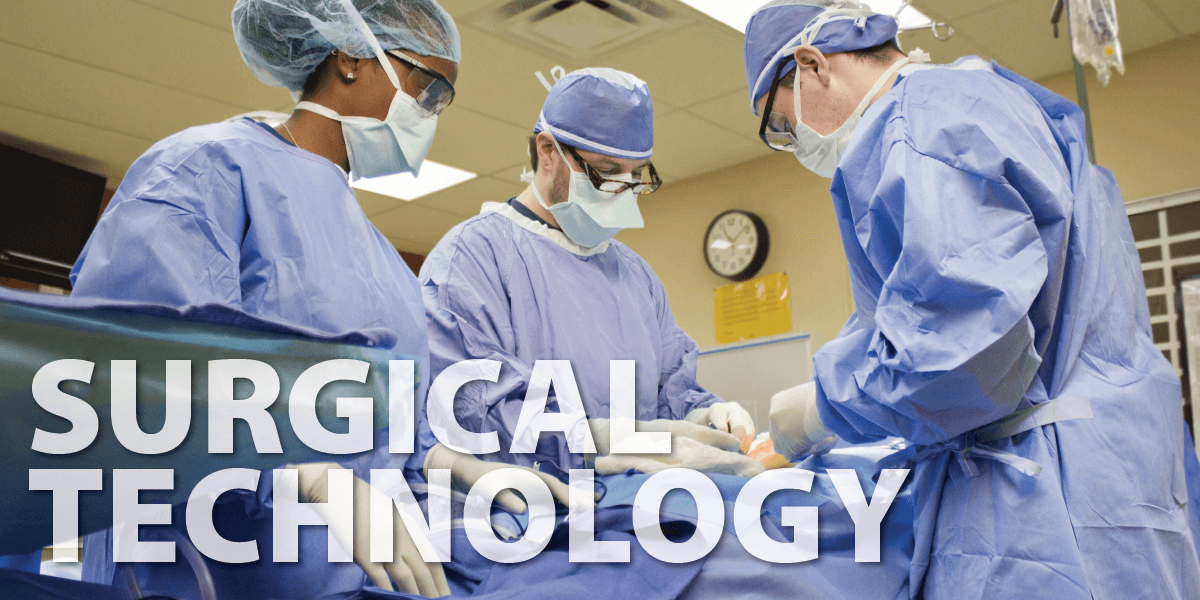 Degree Type: Associate Degree
Surgical technologists work as members of a surgery team alongside physicians, surgeons, registered nurses, and other healthcare workers. Before surgery, surgical technologists work with the registered nurse to set up the operating room suite with surgical instruments and equipment according to the surgeon's preference card. They ensure that the equipment is working properly and that temperatures are set correctly. Surgical technologists may assist in bringing patients to the operating room and getting them ready for surgery by assisting with positioning them on the table, covering them with sterile drapes, and cleaning and disinfecting incision sites. They also scrub their arms, put on sterile gowns and gloves and gown and glove surgeons and surgical assistants.
During an operation, surgical technologists pass the sterile instruments and supplies to surgeons and first assistants. They handle medications used in the surgical field. They might hold retractors, hold internal organs in place during the procedure, or set up robotic surgical equipment. Surgical Technologists also may handle specimens taken for laboratory analysis. They monitor counts of all instruments, dressings, needles, blades, and other items to ensure that they are not retained in body cavities.
After the operation is complete, surgical technologists may apply dressings to the incision site. They may also transfer patients to recovery rooms and restock operating rooms after a procedure.
Fall Semester

SENL

110S

Freshman English I

3

ALLH

210S

Medical Terminology

3

SBIO

221S

Human Anatomy & Physiology Lecture I

3

SBIO

221LS

Human Anatomy & Physiology Lab I

1

MATH

133S

Algebra for College Students

3

Social/Behavioral Science Elective

3

16
Spring Semester
| | | | |
| --- | --- | --- | --- |
| BIOL | 222S | Human Anatomy & Physiology Lecture II | 3 |
| BIOL | 222LS | Human Anatomy & Physiology Lab II | 1 |
| SURG | 101S | Introduction to Surgical Technology | 2 |
| SURG | 103S | Introduction to Surgical Tech Practice | 3 |
| ALLH | 112S | Pathology | 3 |
| ALLH | 124S | Perioperative Pharmacology &Anesthesia | 3 |
| | | | 15 |
Summer Semester
| | | | |
| --- | --- | --- | --- |
| SURG | 119S | Procedures I | 3 |
| SURG | 105S | Surgical Tech Practicum | 4 |
| SURG | 116S | Surgical Techniques | 3 |
| | | | 10 |
SOPHOMORE YEAR
Fall Semester
| | | | |
| --- | --- | --- | --- |
| SURG | 221S | Surgical Procedures II | 3 |
| SURG | 222S | Surgical Tech Practicum II | 6 |
| SURG | 223S | Personal and Professional Development | 3 |
| | | | 12 |
Spring Semester
| | | | |
| --- | --- | --- | --- |
| SURG | 114S | Biomedical Sciences | 1 |
| SURG | 225S | Surgical Procedures III | 3 |
| SURG | 226S | Surgical Tech Practicum III | 6 |
| ALLH | 120S | Fundamental Science Review | 3 |
| | | | 13 |
Summer Semester
SURG

234S

National Exam Review

3

*Humanities Elective

3

6
TOTAL CREDIT HOURS: 72